V12 is a free and open source WordPress theme licensed under GPL license. It's a clean and fast responsive theme built on top of Bootstrap 3.0. The colors and fonts merge together to produce a high quality sleek theme.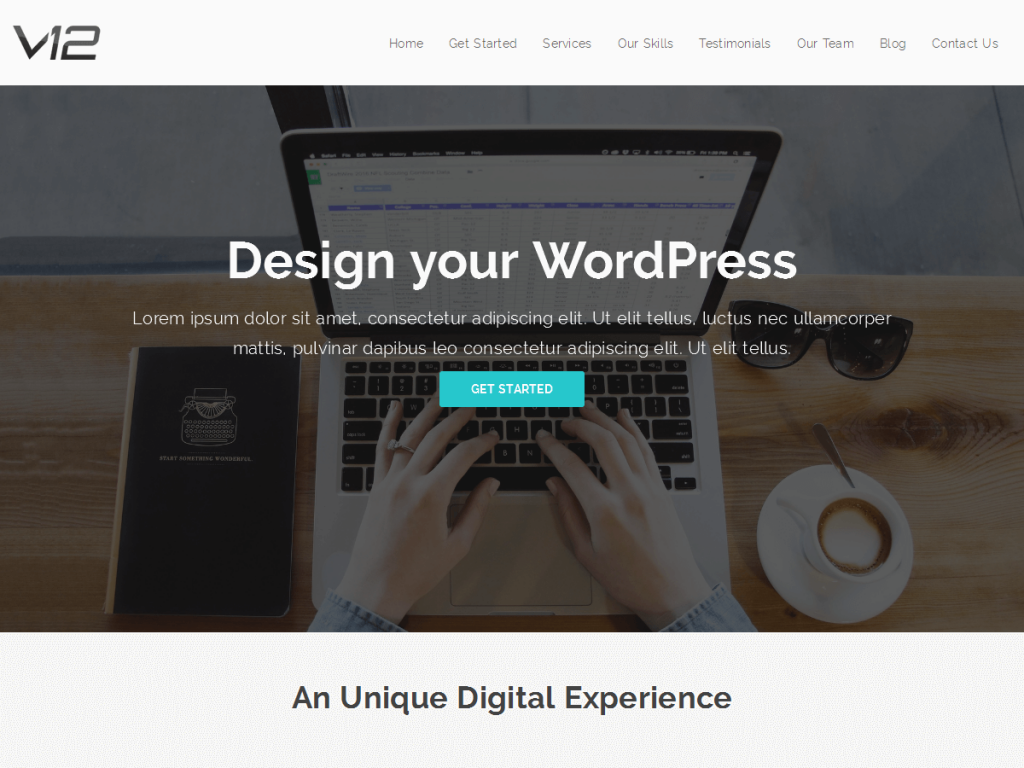 Here are some of the notable features
Responsive design
Mobile first approach using Twitter Bootstrap Framework
Customizer Integration – Header, Fron Page, Single Post, Archives, Footer layout options
Customizer color options – one click color scheme change
6 Page Templates with varoius sidebar positions
Page Builder template. A full width template that is compatible with all major page bulders in the market
Footer widget areas
Custom image logo support
Sticky header, set to display the header always on top on page scroll
Modern off-canvas mobile menu
Download
Thank you for your interest in V12 Theme. The theme is available for free download over the official WordPress.org themes directory. Download from here.
Installing directly
You can also install the theme directly from your wp-admin dashboard without manually downloading it.
Log in to your WordPress admin and browse to Appearance / Themes
Click on "Add New" button
Enter V12 in the search field and search and install the theme
Theme Demo Install
Do you like our demo and want to install it to your WordPress? Please follow the below steps:
Install and activate the V12 Theme
We use the KingComposer in our front page demo. KingComposer is a free page builder listed in the official WordPress.org plugins directory.

Browse to your wp-admin / Plugins / Add New
Search for: KingComposer then install and activate the plugin

Download the V12 Theme Demo Content and unzip it to you computer
Import the downloaded demo content from your wp-admin / Tools / Import / WordPress (Select an option to download the attachments too)
Once the import is complete, go to your wp-admin / Settings / Reading and select the option: A static page for the Front page displays setting. Then, for the Front page select: Front Page and for Posts page select Blog
Go to your wp-admin / Appearance / Menus / Menu Locations and select Main Menu for the Primary Menu location
Now, your website should look exactly as our demo.
Changelog
Version 2.0.1 – Jun 7, 17
Fixed the read more class conflict with the KingComposer
Updated: Enabled the go to top button by default
Version 2.0 – Mar 2, 17
The theme was completely rewritten and prepared for easy future update and improvement.
Added: Customizer Integration – Header, Fron Page, Single Post, Archives, Footer layout options
Added: Customizer color options
Added: 6 Page Templates with varoius sidebar positions
Added: Page Builder template. A full width template that is compatible with all major page bulders in the market
Added: Footer widget areas
Added: Easily add your own copyright text via customizer
Added: Back to top button
Added: Sticky header, set to display the header always on top on page scroll
Updated: The main navigation is now using the superfish jQuery Plugin. The drop-down menus now are shown on mouse over
Updated: The mobile menu now is using the modern off canvas display method
Version 1.1.0 – Oct 28, 16
Update: The V12Thheme theme is now maintained and supported by EliteThemes
Added: Updated the footer and added copyright part
Version 1.1.0 – Oct 28, 16
Officially released in the WordPress.org theme diredtory
Bug fix: Made changes as per review comments
Version 1.0.8 – Oct 11, 16
Bug fix: More translation ready
Feature: Added changelog.txt file
Feature: Added languages function load_theme_textdomain
Version 1.0.7 – Oct 3, 16
Bug fix: Updated names of third party references
Bug fix: More translation ready
Bug fix: Removed GPL license clause from readme.txt
Version 1.0.5 – Sep 9, 16
Bug fix: Added theme_location key to wp_nav_menu
Bug fix: Fixed missing textdomain in page.php
Version 1.0.4 – Sep 2, 16
Bug fix: Added theme slug to all function names
Bug fix: Removed reference to direct cdn links in header.php
Bug fix: Internationalized all static text in the theme
Bug fix: Conditional IE specific script tags added using wp_enqueue_script
Version 1.0.3 – Aug 19, 16
Bug fix: Added copyright info in readme.txt
Bug fix: Removed unused files from theme folder
Version 1.0.1 – Aug 19, 16
Bug fix: Theme updated based on new theme check validations
Version 1.0.0 – Mar 12, 16
Theme completed and uploaded to wordpress.org